Point-of-need performance support for the data generation
The learner need
Go from 10 to 100%
As much as 90% of employee learning takes place "on the job" as part of daily workplace activity, but learning departments currently do little to support it.
Saffron eaSe is a point-of-need virtual assistant that supports users through complex processes, workflows, and systems within each field or process. It's context sensitive so recognises where the learner's mouse pointer is and automatically provides support to enable them to move through their task. No more relying on an IT helpdesk, or beleaguered managers fielding the same questions again and again. Learners have exactly the information they need, when they need it.
As well as reducing uncertainty and mistakes, this supports learning by doing, increases user adoption of new systems, and boosts employee engagement and productivity. It even incorporates an acknowledgement feature to aid compliance, and can be translated into a number of languages. Keep the learning going long after the formal training has ended!
How does Saffron eaSe work?
Lead learners to their destination
eaSe is a virtual assistant that responds directly to your learners' actions and environment, delivering context-sensitive curated learning at the point of need. A sleek responsive window follows the employee through a workflow, automatically providing centrally created content based on where they are in the process.
This content is distributed within the process itself, integrating eaSe into systems and programs with no coding required. The applications of eaSe are limitless. Whether it's data entry to a CRM, going through SAP applications, or even simply Word or Excel processing, it can handle any potential procedure. Functioning with any web or desktop app across multiple devices, it is also version-independent, and immune to the common fate of being broken by software updates.
Saffron eaSe shows assistance for each specific stage of a process, ensuring the learner can perform it correctly and efficiently. The level of detail can be as precise as telling the employees which field to fill in, or even which spot on the screen to click. All this can be tracked and reported, allowing real-time reporting and audits to ensure compliance, measure competencies, and provide verification of targeted interventions.
The content is easily customisable using the eaSe Designer tool, and whether it's video, interactive PDFs, or other support tools, it always appears at the point of need. And if that's not quite enough, any extra queries learners have can be immediately communicated to the content owners or the system's support through the inbuilt assistance request tool, by tagging the precise area of the screen that is being queried.
Saffron eaSe workflow
Go with the flow
Saffron eaSe content creation and customisation is as simple as pressing record and performing the correct process once. From then on, learners can be shown how to replicate the procedure, embedding learning on the job and giving autonomy to the user.
Content can be distributed to the user base with the click of a button, and different user groups can be targeted independently, based on seniority, competency, or department, personalising the experience.
Saffron can train your learning supervisors to write the learning themselves, or our award-winning team of content creators can craft bespoke content tailored to any business need.
Features
Universally applicable
Context-sensitive
Point-of-need support
Immediate helpdesk contact
Authoring options
Reporting Web guide
"In the field of knowledge management, no tool has had such an impact on me."
"The easy handling and operation of feedback is particularly helpful and offers very good support for the interactive communication of users and consultants."
Saffron eaSe can be fully hosted and supported as a SaaS option or can be installed on site.
Register to request a demo!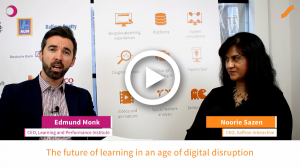 There's a lot of tumult around right now – in the world, in business, in learning. With constant change the future of work, that only looks set to continue. Today, digital disruption